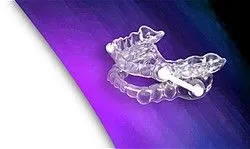 Silent Night
An estimated 80 million people in North America snore while sleeping. Spouses and children are often repeatedly during their sleep cycles by a snoring family member, which can lead to tensions and fatigue due to a lack of rest.
What Causes Snoring?
During sleep, the muscles and soft tissues in the throat and mouth relax making the breathing airway smaller. This decrease in the airway space, increases the velocity of the air flowing through the airway during breathing. As a result, soft tissues like the soft palate vibrate, which is referred to as "snoring."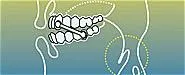 The Silent Nite is a custom-made snore prevention device that is flexible, thin and comfortable for the patient. It is worn while sleeping, and moves the lower jaw into a forward position, increasing the three-dimensional airway space, which reduces air velocity and vibration or "snoring." The Silent Nite has exhibited excellent clinical success for preventing annoying and unhealthy snoring.
Please ask Dr. Fleming if Silent Nite would work for you.