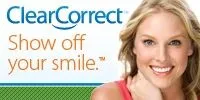 Clear Correct is a new system of straightening teeth without the use of conventional braces. A series of clear plastic aligners are utilized to create tooth movement. Moving teeth with removable aligners is not new. However, the computer program, which can generate a series of aligners with small changes is the new part. Clear Correct is recommended for orthodontic situations with mild to moderate spacing or crowding.
They are virtually undetectable, easy to use and comfortable to wear.The nearly invisible way to straighten your teeth. It involves a series of removable clear plastic aligners to align your teeth. It is suitable for many adult and some mid-teen patients and is comfortable to wear. Each set of aligners is worn full-time for about two to four weeks, removing them to eat, drink, brush and floss. As you replace each aligner with the next in the series, your teeth move - little by little, week by week - until they are straight.
How does Clear Correct work?
Using the latest advances in 3-D computer technology, Clear Correct translates your doctor's instructions into a series of nearly undetectable Aligners. You wear each set of Aligners for about two weeks, moving your teeth gradually week by week, millimeter by millimeter you've achieved the desired result.
Not every case is suitable so Dr. Fleming will determine if Clear Correct is right for you!
Clear Correct is the invisible way to straighten your teeth without braces.
Clear Correct uses a series of clear removable aligners to straighten your teeth without metal wires or brackets.
Clear Correct has been proven effective in clinical research and in orthodontic practices nationwide.