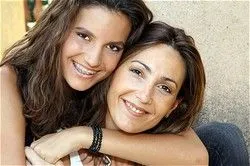 Traditional Braces
Beyond their traditional color, the only thing traditional about these braces is that you can see them. Contemporary braces are made of super strong metal alloys derived from the space program. Their strength allows them to be the smallest of all braces and therefore the most comfortable. Their density makes them ultra slippery so teeth move faster than they ever have before. Today's braces, in combination with other high tech materials mean fewer office visits to complete treatment.
Dr. Fleming has been trained by one of the finest programs that is offered to educate dentists to advise about orthodontic treatment. Rondeau Orthodontic Seminars and F.O.R.C.E. (Faculte for Orthodontic Research and Education) are the programs Dr. Fleming has completed. 200 hours total of class time taken for additional education in braces! Most dentists only complete 20 hours/year, the minimal requirments of the state to maintain their license.
As a result, you can be assured that Dr. Fleming will be monitoring the growth and development of your children from the first time they sit in the dental chair. If interceptive (early) orthodontics is needed, then treatment recommendations will be discussed, which could save you and your children a lot of time and money in the future!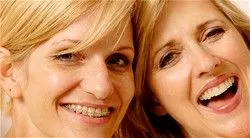 Clear Braces
Ceramic braces utilize less noticeable brackets for patients concerned about aesthetic appearances. Ceramic brackets are translucent, so they blend in with your natural tooth color. This means that unlike traditional stainless steel braces, with ceramic braces your smile will not look 'metallic.' In addition, ceramic brackets are designed so that they won't stain or discolor over long periods of time. Dr. Fleming can let you know if you are a candidate for ceramic braces.
*Please be aware that Dr. Fleming is not a licensed orthodontist, but can advise you about your child's orthodontic treatment and refer you to a licensed orthdontist if needed.