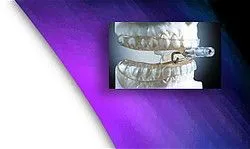 Obstructive Sleep Apnea occurs when the airway completely collapses blocking the airflow to the lungs. The harder one tires to breath, the tighter the airway seals. This airway persists until the brain partially awakens the person. Unconsciously, he/she will close the jaw returning the tongue and throat to a normal postion.
The sleep apnea cycle- falling asleep, jaw relaxing, airway collapsing, unconsciously awaking with a gasp, falling back asleep- can repeat itself 50 times per hour during the night!
The TAP (Thorton Adjustable Positioner) is a proven appliance solution for patients with sleep apnea. The TAP reduces sleep apnea and the associated health risks in many patients because the airway space is adjustable. Sleep Apnea has been indicated in chronic sleepiness, strokes, heart attacks, morning headaches, depression, and high blood presssure.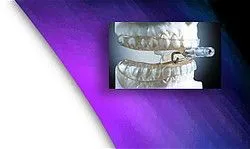 An upper and lower biteguard are connected together with the TAP attachment to maintain a foward and open position of the jaw. Developed with advanced technology, the TAP reduces sleep apnea health related risks without the need surgery, medications, or other cumbersome therapy.
Please call for a consultation with Dr. Fleming to see if the TAP device would work for you.